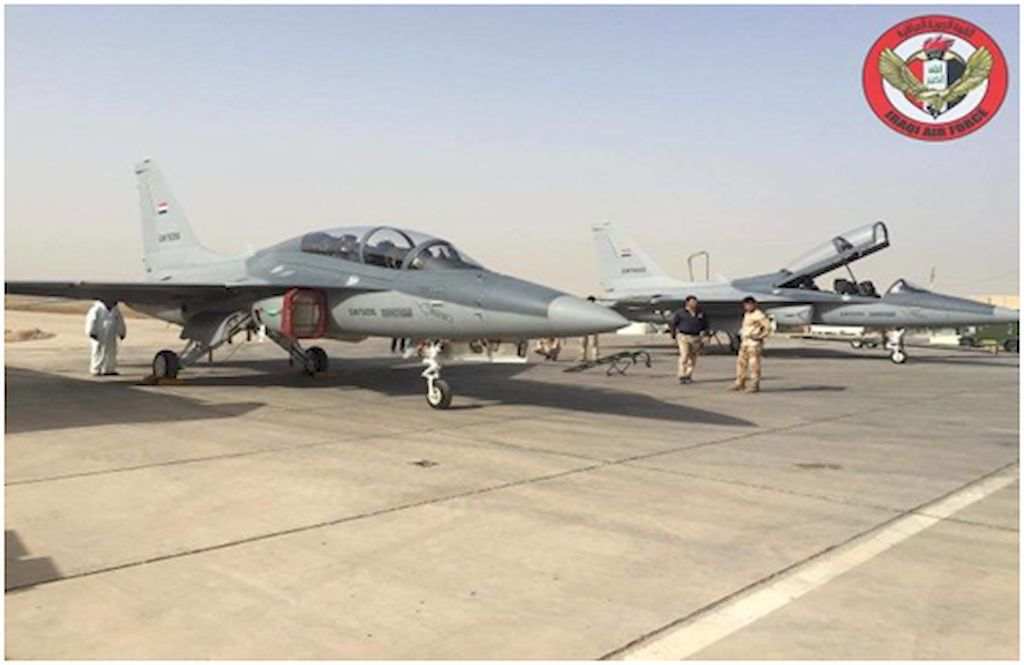 Two from the first six combat training aircraft KAI T-50IQ received by the air Forces of Iraq (airborne numbers IQAF-5005 and IQAF-5006). Basra, January 2018.
Source: Iraq's Air Forces / twitter.com/iqairforce
According to information of the ministry of defense of Iraq, country's Air Forces got another batch of ordered combat training aircraft T-50IQ in Republic Korea during the framework of contract signed in 2013.
 According to data Press.TV, the third batch of aircraft was delivered in Iraq by the navy transport on the 28th of October.
As the center for analysis of world arms trade reported, on the 12th of December, 2013 Korea Aerospace Industries reported about the ceremony of sign of the contract on supply of 24 combat training aircraft in adapted version T-50IQ "Golden Eagle" to Air Forces of Iraq in Bagdad by executive director of the company Ha Sung Yong and Prime minister of Iraq Nuri-Al-Mlaliki. The total worth of order is 2,1 billion  US dollars, including 1,1 billion on purchasing of aircraft and 1 billion US dollars for support program on 20 years and training of personnel staff.
Т-50IQ is a version of a light combat aircraft  FA-50, providing the possibility of appliance of armament of  "air – air" and "air-ground" classes.
Contract signed in 2013 envisaged, that supply of aircraft will start in April 2016, but because of the different reasons the schedule was not met. The first aircraft T-50IQ "Golden Eagle" produced for Air Forces of Iraq with tail number IQAF 5001 did the first training flight on July, 13, 2015. The first batch from 6 aircraft was delivered in Iraq on March, 16, 2017. In May 2018 Iraqi air forces got also 6 aircraft.
As it is planned, supply of all 24 ordered aircraft to Air Forces of Iraq will be completed in the beginning of the next year.
Source: https://vpk.name/news/233190_vvs_iraka_poluchili_ocherednuyu_partiyu_ubs_t50iq.html