The Syrian war, as well as other military conflicts of recent decades, is marked by the extensive use of various tanks – improvised fighting vehicles.
In fact, such a technique is a truck, a pickup with or without armor, in the body of which is installed a machine gun or small-caliber gun. The combination of high firepower and more speed than in standard combat vehicles made the trucks an effective solution for escorting the convoys, patrolling the terrain, and sudden attacks with the use of the tactic of "hit-run".
The "Podolsk Electromechanical Plant of Special Machine Building" presented its view of this technique already in the factory execution, having demonstrated at the international military technical forum "Army-2017" the armored car SAMUM (Ultra-mobile Artillery Multipurpose Modernized Instalation). It is a lightly armored pickup truck equipped with a ZU-23 / 30M anti-aircraft missile gun. This weapon is able to hit ground targets at a distance of up to 2.5 km, as well as air – at an altitude of up to 1.5 km.
The anti-aircraft gun installation of an armored car can fire in several modes: automatic, semi-automatic and manual. This rids the development of Podolsk designers from the lack of self-made gun trucks – vulnerability for enemy's bullets gunner, located in the back. The machine has a suspension with the possibility of rigid fixation for the leveling the swing during the fire.
The length of the car is 5 meters, width and height – 2.75 meters. The equipped weight of the car with full ammunition is 6.5 tons, while it carries another 1.5 tons of cargo. Engine power reaches 200 hp, which allows the all-terrain vehicle to accelerate to 160 km / h on the highway and overcome up to 1000 km due to the use of two full-time fuel tanks.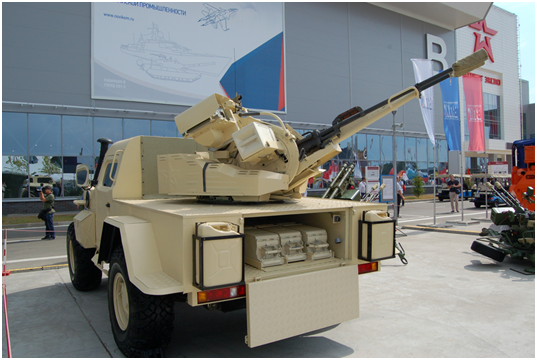 Experts, on the whole, positively assess this development. In their opinion, its creators have creatively comprehended the rich military experience, but for its further progress much depends on how it will show itself during the trials.
Source:
http://www.arms-expo.ru/news/wars_and_conflicts/siriyskiy_opyt_v_rf_razrabotali_bronirovannyy_samum_s_23_mm_pushkoy_/